current Status Map of Projects Along NRHT



Feb '17 People Pathways Launches Phase 2 of Putnam Nature Trail
Dec '16 People Pathways Reviews Putnam County 2016 Trails Progress
Sep '16 People Pathways Opens 1st Phase of Putnam Nature Trail


2015 & before
---
February 2017

People Pathways Launches Phase 2 of Putnam Nature Trail:
Fresh on the heals of opening the 1st phase of the scenic multi-use Putnam Nature Trail on the southwest side of Greencastle, People Pathways, in partnership with NRHT, Inc., acquired ownership of an additional 2.5 miles of the former railroad property extending southwest from Limedale. In addition, trail property neighbor and Phase 1 partner Buzzi Unicem has again generously offered to use its heavy equipment to do rough clearing and grading of the overgrown former railroad bed. Combined with the award of generous grants from the Putnam County Community Foundation and the Duke Energy Foundation to cover other development expenses, this has allowed People Pathways to now launch trail construction on this new section, with much the same style as on the 1st phase. The objective is to open 2+ miles to pedestrians and bicyclists by the end of this year.
current condition of Phase 2 corridor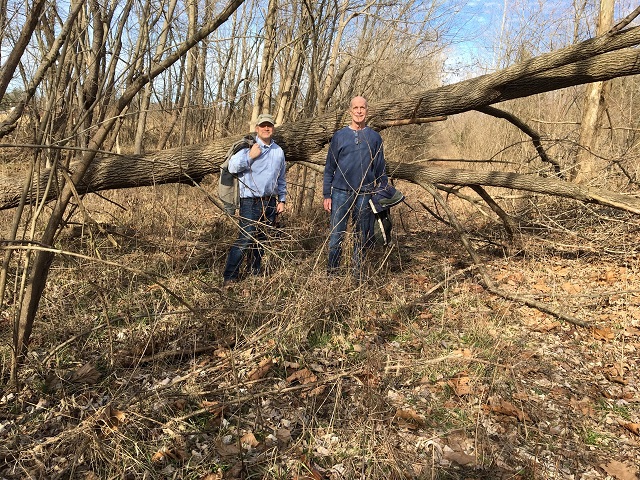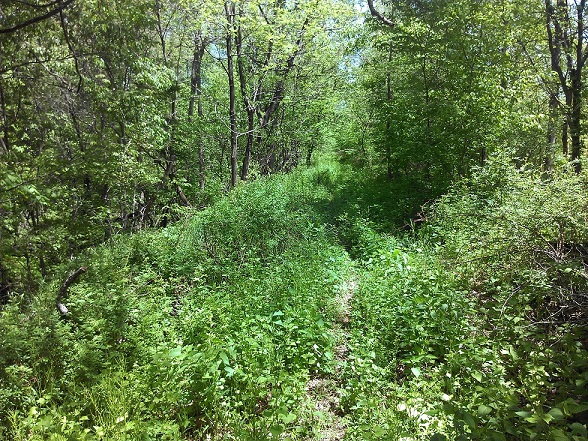 Ahead of Buzzi's work, other volunteers will do some basic preparations that should facilitate access and maneuvering by the heavy equipment. In addition to preparing the smooth, crushed limestone trail surface, People Pathways will also create trailheads. The volunteer work will begin immediately this winter to take advantage of the dormant vegetation.
Anyone who would like to help transform this section of corridor into a scenic natural trail please contact People Pathways Chair Joy Marley at wjmarley@cinergymetro.net. Particular volunteer events will be publicized on the NRHT, Inc. Facebook page, linked from this web site's main page.
Below, volunteers did initial preparations on March 18.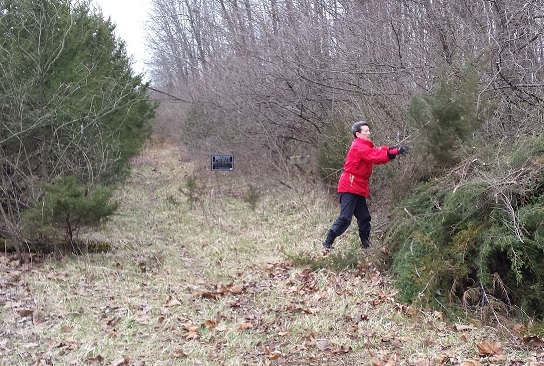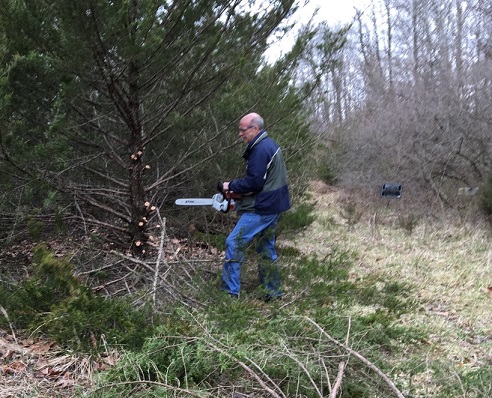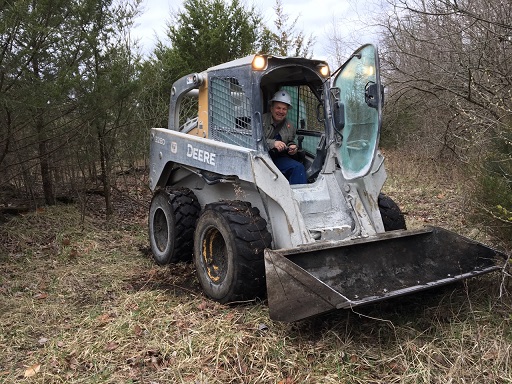 ---
September 2016 (updated December 2016)

People Pathways Opens 1st Phase of Putnam Nature Trail:
After 20 years of successful trail promotion and development in Greencastle and Putnam County, the volunteer trail group People Pathways is not resting on its laurels. On September 23rd, they opened the first phase of the multi-use Putnam Nature Trail going southwest from Greencastle. This 0.8-mile bike/ped segment provides an example of the natural beauty in this part of the county and provides a connection point for the city of Greencastle's planned Campus Link Trail across the south side of the city. A map is provided at the end of this story. The Putnam Nature Trail will also form part of the cross-state NRHT. The trail's gravel parking lot is accessed from Jackson Street south of Veterans Memorial Highway, just north of the railroad crossing. The trail can also be accessed on foot or on bike at the intersection of Jackson Street and Veterans Memorial Highway.
This segment of the Putnam Nature Trail has been made possible in large part by generous donations of property from the neighboring Buzzi-Unicem cement plant, by the city of Greencastle, and by adjacent local business Corner Properties LLC. Trail construction has been made possible by a Putnam County Community Foundation "Envision 2016: Moving Putnam County Forward" grant awarded to People Pathways and much donated work by Buzzi-Unicem and volunteers. Photos of the development activities and the trail opening event are provided below.
Overgrown corridor before & groomed trail after.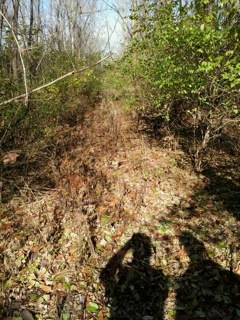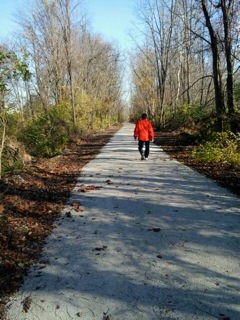 Information kiosk built by volunteers from Fillmore's Bethel Baptist Church.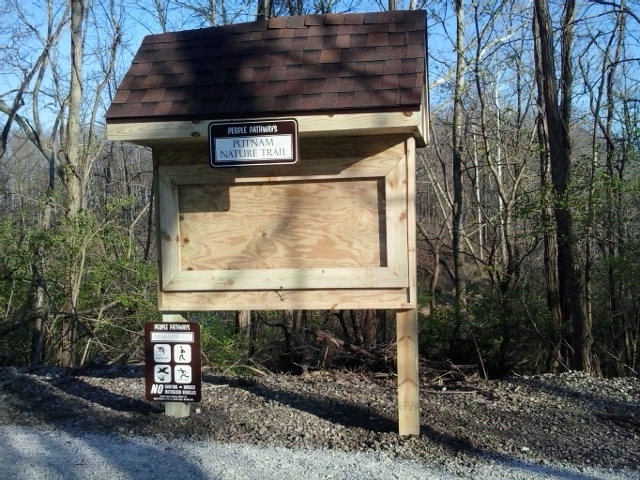 On May 21, volunteers from West Central Quail Forever, Putnam County Water and Soil Conservation District, People Pathways, Walmart Transportation's VAP Program, and Putnam County Families in Nature Group, joined forces to plant over 1,000 native plant plugs.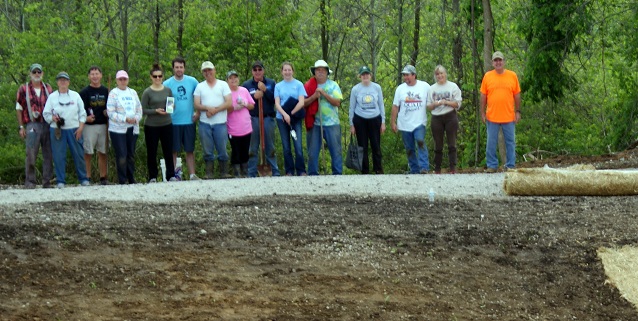 The planting included Queen of the Prairie, Red Lobelia, Monarda, Liatris, Prairie Dock and Butterfly Weed. Prior to the plug planting, Bill Fielding with the West Central Quail Forever group, planted native grass seeds that included Bluestem, Buffalo Grass and Prairie Dropseed. Not only will trail users get to view the wonderful planting but also motorist along Jackson Street. The newly planted site will also provide a wonderful natural habitat for pollinators.
Below are photos from the September 23rd trail opening event.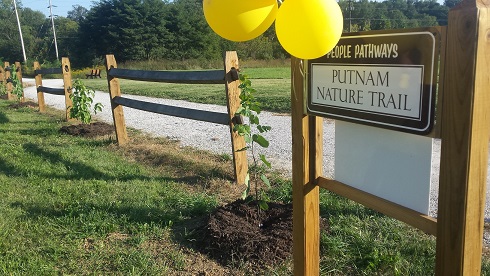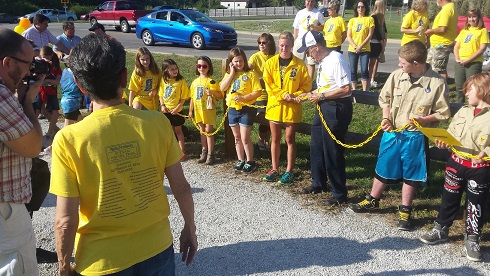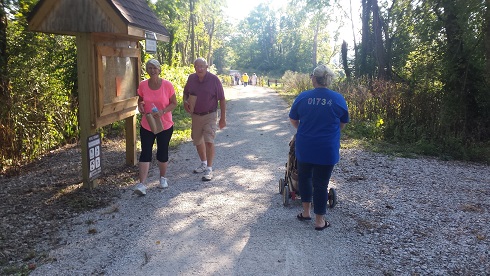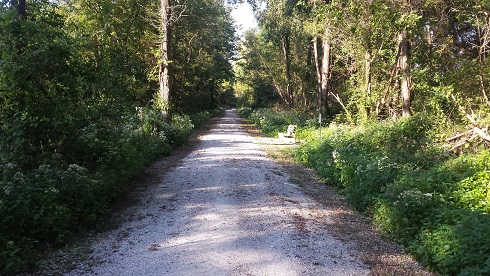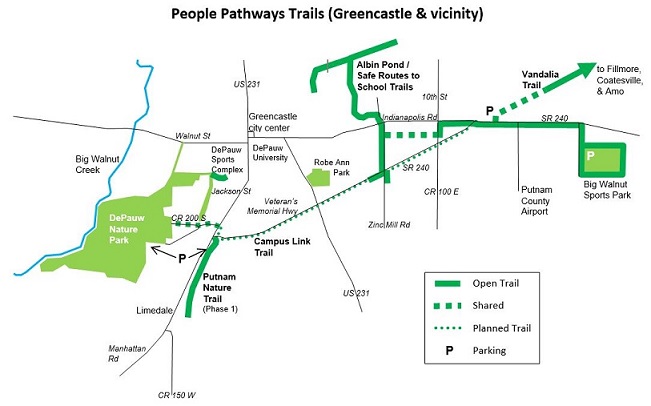 ---