Putnam County: New Gates & Trail Grade at CR 750 E & CR 875 E (Jan 2011)
New trail gates at CR 875 E. This intrepid volunteer crew made up of staff from the Putnamville Correctional Facility, local residents, and a People Pathways volunteer installed the 3 new sets of trail gates at CR 750 E and CR 875 E on the coldest day of the winter. The wood for the gates was donated and the gates were manufactured at the Putnamville Correctional Facility under the guidance of Putnamville Correctional Facility staff.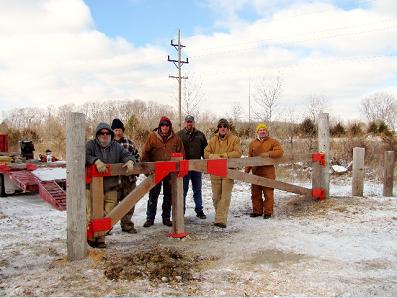 New trail gates with graded trail going east from CR 750 E

New trail gates with rough corridor going west from CR 750 E. Rough trail grading has been done. Graded trail will be developed on this corridor to the edge of Fillmore in 2011.